When his nation called, fighter pilot Gentner Drummond bravely led the first U.S. combat mission of the Gulf War and was one of Oklahoma's most highly decorated veterans.
Now, Gentner is answering the call of service again. As attorney general, he will defend our rights, uphold the rule of law, and serve the people of Oklahoma, not the political elite.
Protect our Second Amendment rights
Protect us against federal government overreach
Protect victims of sexual assaults by clearing the rape-kit backlog as quickly as possible to arrest predators
I will defend our rights, uphold the rule of law, and serve the people of Oklahoma, not the political elite.
– Gentner Drummond
Serving the People of Oklahoma

When his nation called, Captain Gentner Drummond led the first U.S. Combat mission in the Gulf War and was awarded the Distinguished Flying Cross for "extraordinary achievement". By the end of Operation Desert Storm, Capt. Drummond was among the most highly decorated Oklahomans of the war.
After completing nearly eight years of service to our country and earning a law degree from Georgetown University, Gentner returned home to Oklahoma to raise his family.
Even though Gentner was a practicing attorney, ranching was in his blood. He had been raised on the family ranch in Osage County, working sunup 'til sundown, including his school work at Hominy Public Schools. Gentner continued that tradition, raising his own children with the same values he had learned from his family.
Along the way, Gentner also became a successful businessman. His holdings include Blue Sky Bank, Drummond Law Firm, and Drummond Communications, creating hundreds of jobs in addition to the Drummond ranching operation.
Gentner and Wendy Drummond have a blended family of six children and five grandchildren.
As Attorney General, Gentner Drummond will take on a new mission: defend our rights, uphold the Rule of Law, and serve the People of Oklahoma, not the political elite.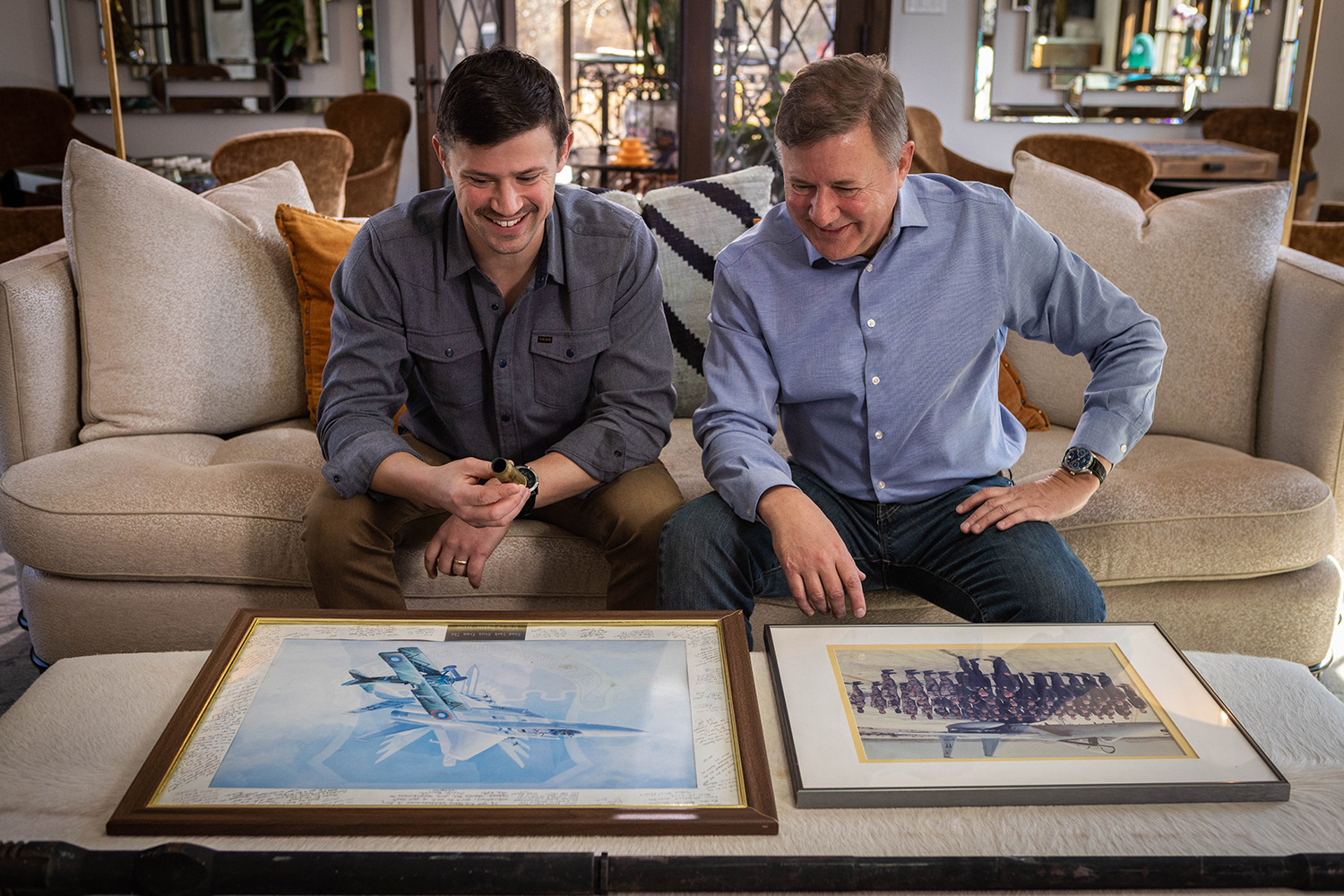 On January 17, 1991, Captain Gentner Drummond's mission was clear. He led a 40-plus aircraft strike mission into the southeast corner of Baghdad. His task was to provide aerial protection for a strike package into Baghdad under cover of darkness. It was the United States' first combat mission into Iraq in the Gulf War.
When Capt. Drummond went to fly, he strapped that F-15 fighter jet to him. It became part of him. He knew the F-15 as well as the F-15 knew itself.
"We engaged and drove out eight MIG 29s from the target area as our fighter bombers destroyed key targets", Capt. Drummond said. "On our egress I was ordered back toward Baghdad to kill a declared enemy aircraft that was in pursuit of the egressing strike package."
The young fighter pilot had clearance to fire on what mission command deemed a hostile aircraft. "I had my finger on the button," Drummond said.
Ultimately, he identified the aircraft as an ally, not an enemy fighter. The plane was a Saudi Arabian Tornado fighter jet. Captain Drummond escorted the pilot safely back to base.
In awarding him the Distinguished Flying Cross, the Air Force stated that Capt. Drummond's situational awareness, airmanship and understanding of the rules of engagement prevented the tragic loss of a coalition force crew and aircraft.
Additionally, Capt. Drummond's decisions and disciplined execution highlighted a significant shortfall in the combat identification process. Because of his actions, all F-15 units adopted a more discriminatory approach to aircraft identification.
At the end of Desert Storm, Capt. Gentner Drummond became one of the most highly decorated Oklahomans with the Distinguished Flying Cross and numerous medals.
During his service to our country, Captain Gentner Drummond was awarded numerous medals:
The Distinguished Flying Cross
Air Medal with 2 Oak Leaf Clusters
Aerial Achievement Medal with 3 Oak Leaf Clusters
Air Force Commendation Medal
Air Force Achievement Medal
Air Force Outstanding Unit Award with 1 Oak Leaf Cluster
Readiness Medal with 1 Oak Leaf Cluster
National Defense Service Medal
Southwest Asia Service Medal with 2 Bronze Service Stars
Air Force Overseas Short Tour Ribbon
Air Force Overseas Long Tour Ribbon
Air Force Longevity Service Award Ribbon
Small Arms Expert Marksmanship Ribbon
Air Force Training Ribbon
Take Action
Get involved in the campaign to elect Gentner Drummond as Attorney General. Volunteer your time, put a sign in your yard or support him on social media.
Yes! I want to help elect Gentner to fight for us!
Authorized and Paid for by Friends of Gentner Drummond 2022